We bring you the best coverage of both egglaying and livebearing fish species that range from commonly available to rarely seen species. 
Perhaps the best-known egglaying fish in the World is the Neon tetra.  In Issues 4 and 5 Karel Zahradka covered this specie in great detail and not only introduced us to the 'original' Neon but also to several new colour and fin forms produced in Eastern Europe.  Below is a snippet from Issue 4:
'Since the original description was made these fish became the type species for a new genus known as Paracheirodon.  Here they are joined by P. axelrodi (Cardinal tetra) and P. simulans (False Neon tetra).
In the wild the Neon tetra, which grows to a size of 3cm, is found in the blackwaters of southeastern Colombia, eastern Peru and west Brazil.  Water temperatures here range, depending upon the season, from 21 to 29 C.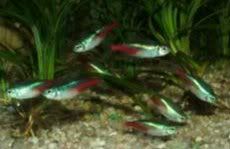 These little characins are one of the World's most popular aquarium fish.  As this photograph, taken by Iggy Tavares, shows they are best maintained in shoals.  They will live in certain community situations but are best kept in a species dedicated aquarium.  Feeding is easy as they take live brine shrimp, daphnia and small pieces of commercial flaked/pellet food.
One essential routine is that you check their body colour, which naturally fades in darkness, each day as fading colour can be a sign of the onset of Pleistophora hyphessobryconis (Neon tetra disease) which is so lethal, and currently has no effective cure, that it can wipe out your aquarium stock within a short space of time.
Start of the new
By the end of the 1980's the Far Eastern fish breeders had begun to produce a golden/albino form of Neon tetra.  These fish have never become fully established in Europe and, as far as the U.K. goes, they seem to arrive in large numbers and then disappear again for several years.
More recently out of the Far East have come a variation of the golden form known as the Lutino in which all of the famous Neon colours are replaced by a plain pink and a Diamond Head in which the red neon colour is broadened while the blue banding fades to obscurity'.